Gary Works ERGs & HR Team Organize Toys for Tots Donation Drive
Jun 25, 2023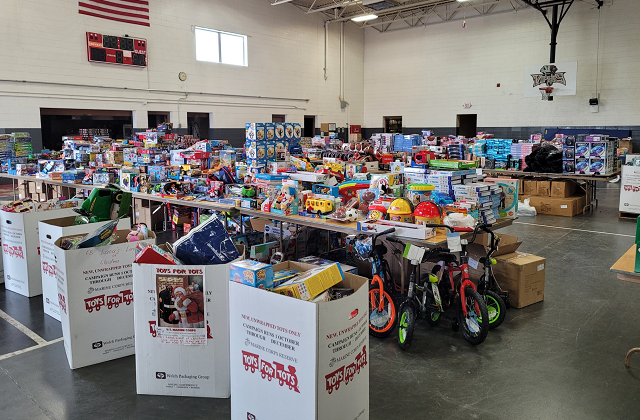 U. S. Steel's Gary Works and Midwest Plant once again staged highly successful donation drives to benefit local children served by the region's Toys for Tots campaign.
The effort was led by the local Human Resources team and the local chapter of the company's SERVE (Strengthening and Enhancing Relationships of Veteran Employees) Employee Resource Group, with support from its six other ERG local chapters.
Below are some highlights of the donation drive by the numbers:
4,000+: That is the number of children, ranging from infants to teens, who are approved to receive items donated to the Toys for Tots Gary Chapter this year alone.
51: The number of Gary Works employee volunteers, aka Holiday Heroes, who helped during this year's gate collection.
5+: The number of truckloads of unwrapped toys donated by U. S. Steel employees and delivered to Toys for Tots. This included 5 brand new bikes. One department at the Midwest Plant had so many toys, the stack covered their entire conference room table! Gary Works came through with stacks of their own to make an impressive combined haul.
14,750: The number of dollars collected in one day at the Gary Works and Midwest Plant gates. This money given by the caring U. S. Steel family of employees funded the purchase of even more toys.
95: The number of volunteers who worked over the span of four days to prepare the toys for delivery. They were given lists of approved families and carefully "shopped" from the donations to ensure that each child would receive a large toy, a small toy, one or two stocking stuffers, a book, and a game for their whole family to enjoy. Babies were given soft, cozy new blankets plus stuffed animals, baby toys and books. Numerous volunteers then assisted the Toys for Tots Foundation by playing "Buddy the Elf" to hand out the presents. The U. S. Steel volunteers were delighted to see the smiling faces of the local children who benefited from the generosity of the Gary Works and Midwest Plant employees as well as other individuals and organizations in the Northwest Indiana area.
Hard hat tip to all Gary Works and Midwest Plant local unions and employees who contributed in any way. Whether you purchased toys, donated or volunteered at the gate collection, or helped sort and deliver toys, each and every one of you helped to make the holidays brighter for the children receiving these gifts. Thank you for your generosity!
Also, special thanks from HR to Raymond Tarnow, the Gary Works Location Chair of SERVE, for organizing almost 150 volunteers for the gate collection and toy sorting, all of which were essential to our success once again this year.
It's never too late to give. Click here if you would like to donate to the Gary Area or the Portage Area Toys for Tots Foundations.
---
Photos above
Photo 1: A local Toys for Tots sorting center ready for action thanks to donations from across the region, including our Gary Works and Midwest Plant employees.
Photo 2: Gale Hearne & Shelia Herron (at left with Toys for Tots) and Major Georgetti (Armory) explain the collecting and bagging process to U. S. Steel's volunteers.
Photo 3: Volunteers hard at work collecting items assigned to them on local families' wish lists.
Photo 4: Richard Monahan (left) and LaToine Smith (right) moving bagged toys to the pickup locations.
Photo 5: Robert Mowbray (left) and Joe Petrovich (right) sorting toys by age groups.
Photo 6: ShaKeia Reese (front) and Brian Carlson (rear) sorting toys by age groups.
Photo 7 (left to right): A smiling Shelia Herron from the Gary Toys for Tots chapter holding the checks from the Gary Works and Midwest Plant gate collections. Behind her are the following U. S. Steel employees (affiliations in parentheses: Chris Bernard (SERVE member), Rick Monahan (SERVE member), Robert Lucious (United Steelworkers Local 1014 member) Brenda Morgan (USW Local 1014 member), Raymond Tarnow (Gary Works location SERVE ERG Chair), Richard Neely, Jr. (USW Local 1014 member), Ed Hudson (SERVE member), and MarQus Williams (Gary Works LEAD ERG Chair) standing behind some of the toys donated by Gary Works and Midwest Plant employees.