Gary Works & Midwest Plant Employees Donate Supplies to Two Local Schools
Aug 25, 2021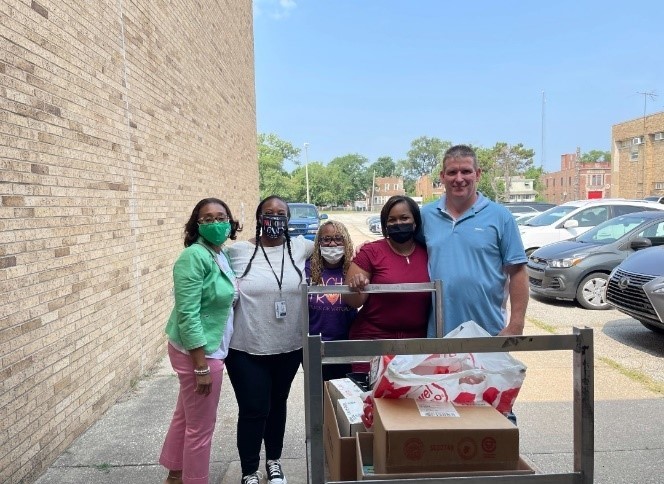 U. S. Steel employees in Northwest Indiana teamed up for a highly successful school supply drive benefitting Beveridge Elementary in Gary near our Gary Works, and Central Elementary in Portage near Midwest Plant.
The Human Resources department handled much of the drive's coordination, recruiting major assistance from all seven Employee Resource Group (ERG) chapters and local United Steelworkers leadership. ERG members set up conveniently located donation boxes at both plants. Local union members conducted regular box pickups and ultimately transported all donations to the two schools.
Employees at both plants were extremely generous with their donations, purchasing many of the items on each school's shopping lists. Employees also made sizable cash donations, which the ERGs used to purchase remaining items on the lists with a little help from family members who joined them on their shopping trips.
Our employees' generosity was topped off by a generous corporate donation secured by plant leadership to purchase much-needed headsets.
Thank you to Gary Works HR, ERGs, local unions, and every employee who donated supplies, money or time. Your amazing generosity will help many local students get this school year started right!
---
Photos above:
Photo 1: Esther Goodes (GCSC Director of Elementary), Naomi Kinsey (SEL Principal), Angela Grayson (Beveridge Elementary Assistant Principal), Dr. Tyneasha Banks (Beveridge Elementary Principal), and Rob Popplewell (Gary Works Sheet Products Operating Technician and USW Local 1066 Grievance Chairman) at Beveridge Elementary School unloading donations.
Photo 2: Raymond Tarnow (Midwest Plant Safety Engineer) and Daniel Turpin (Midwest Sheet Operating Technician and USW Local 6103 President) at Central Elementary School.

Photo 3: Naomi Kinsey, Angela Grayson, Gus Atsas (Gary Works Steel Producing Mechanical Maintenance Technician and USW Local 1014 President), Al Orlando (Gary Works Iron Producing Mechanical Maintenance Technician and Iron Union Safety Rep), and David Bell, Jr. (Gary Works Steel Producing Electrical Maintenance Technician and RCM Union Safety Rep) at Beveridge Elementary School.