Rep. Frank Mrvan Visits & Tours U. S. Steel Gary Works
Dec 2, 2021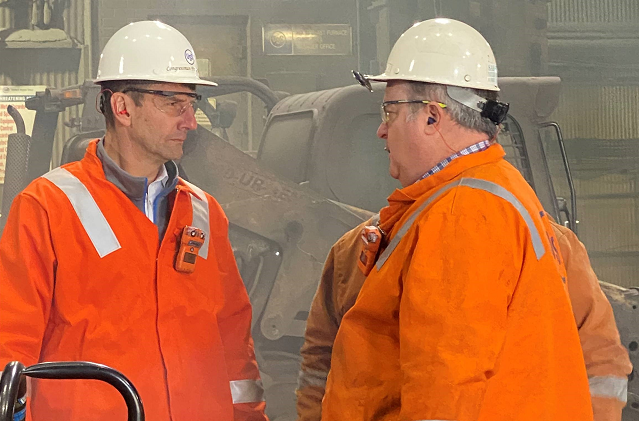 U.S. Rep. Frank Mrvan (D-IN) visited U. S. Steel's Gary Works on Nov. 23 for the second time this year. Rep. Mrvan's Congressional district includes both Gary Works and our Midwest Plant in nearby Portage. He also serves as Democratic Co-Chair of the Congressional Steel Caucus, a bipartisan group of more than 100 Members of Congress who represent areas with steel companies or who support the steel industry in general.
During his visit, Rep. Mrvan met with plant leadership as well as employees in local leadership roles with the United Steelworkers. He spent time promoting the benefits the recently enacted bipartisan infrastructure bill will have for the region and the steel industry. He also voiced his support for maintaining the Section 232 tariffs on steel imports.
Rep. Mrvan also toured and talked with employees working at the plant's #14 Blast Furnace, Steel Shop and Hot Strip Mill operations.
This was Rep. Mrvan's second visit to Gary Works since taking office in January 2021. He greeted and spent time with a Slovak government delegation who came to the plant in June 2021 while visiting the United States.
---
Photos above
Photo 1: Rep. Frank Mrvan (left) and Dan Killeen (Vice President & General Manager, U. S. Steel Gary Works)
Photo 2: Rep. Mrvan receives an explanation of blast furnace operations.
Photo 3 (from left to right): Dan Killeen, Rep. Mrvan, and Scott Cranor (Grievance Chair - United Steelworkers Local 1014)
Photo 4: Rep. Mrvan greets employees.
Photos 5 – 7: Rep. Mrvan receives an explanation of hot strip mill operations as slabs pass by.