U. S. Steel a Top Fundraiser for March of Dimes' 2022 "March for Babies"
May 2, 2022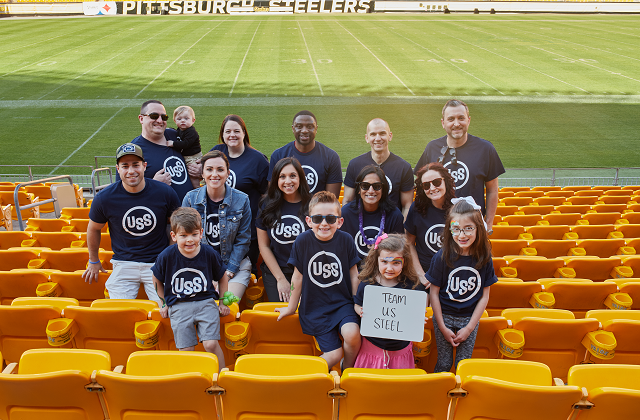 Throughout April, U. S. Steel spotlighted the March of Dimes leading up to their April 24 "March for Babies" walks around the country.
March of Dimes plays a critical role in improving access to prenatal and neonatal care for minorities and all who are underserved, including in communities where we operate. From advocacy to education to research, they help level the playing field to keep all moms and babies healthy.
At U. S. Steel, our SteelPARENTS and SteelABILITY employee resource groups led our fundraising efforts by staging gate collections and virtual fundraising across our U.S. locations. Thanks to the incredible generosity of our employees, we raised more than $40,000, the most funds raised by a single corporation for March of Dimes of Western PA. When combined with our corporate gift, U. S. Steel contributed more than $65,000 in 2022.
Virtual donations are still being accepted here (www.marchforbabies.org/USSteel), and you can designate your gift for a specific U. S. Steel facility.
Thank you to everyone who donated, to those who attended the in-person walk in Pittsburgh on April 24, and to all our plant teams, including ones like our Minnesota Ore Operations who got creative onsite to help the cause (see details in the photo caption below).
---
Pictures above
Photo 1: Team U. S. Steel at the Pittsburgh March of Dimes "March for Babies."
Photo 2: SteelPARENTS Co-Chairs Sarah Loy (Manager – FP&A) and Ryan Levine (Director – FP&A) and Executive Sponsor Duane Holloway (Senior Vice President, General Counsel and Chief Ethics & Compliance Officer) represent U. S. Steel on-stage as a March of Dimes representative speaks at the April 24 walk in Pittsburgh.
Photo 3: Mona Dine (General Manager – Human Resources) and Ryan Levine pose at U. S. Steel's team area at the Pittsburgh March for Babies.
Photo 4: Minnesota Ore Operations Plant Managers Lukas Klemke and Travis Kolari were joined by SteelPARENTS & SteelABILITY supporters Susan Wiirre (Employee Relations Manager), Karie Sailstad (Training Representative), and Laurie Krasaway (Administrative Assistant) in walking around the Minntac facility's Administration Building. Lukas and Travis agreed to walk one step for every dollar raised at the Minntac and Keetac gate collections. Before the end of April, they will walk more than 4,000 steps at both facilities!
Photo 5: Joe Petrovich (Manager - Plant Applications) and Mary Medina (Application Architect) working the gate collection at Midwest Plant in Northwest Indiana.