U. S. Steel Celebrates Progress on $60M Pig Iron Casting Investment at Gary Works
May 28, 2022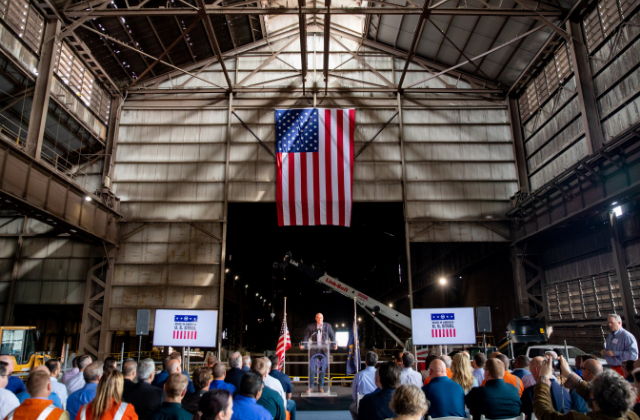 U. S. Steel employees, United Steelworkers leaders, key partners and elected officials gathered today to celebrate our $60 million investment in pig iron casting technology at Gary Works.
The investment is a key part of U. S. Steel's metallics strategy. It will produce up to 500,000 tons of pig iron annually to feed our growing fleet of electric arc furnaces (EAFs). The caster will be supplied with high-quality iron ore from our Minnesota Ore Operations facilities: Minntac and Keetac.
Pre-construction work on the pig iron caster began earlier this year, and start-up is expected in early 2023. The investment will create approximately 25 new full-time jobs at Gary Works.
In a press release about today's event, U. S. Steel President and CEO Dave Burritt said, "Mined, melted and made in America has always been important to us, and recent world events have demonstrated how critical self-reliance is. This investment at Gary Works, to create the necessary material for our lower-emissions electric arc furnaces, is the perfect example of combining the best of integrated and mini mill technologies. It's also helping propel our transition to our ambitious Best for All ® strategy. We're committed to a future of driving profitable steel solutions for people and the planet."
Watch videos from today's event and associated with this project:
Stay tuned to X App in the coming days for more highlights from today's festivities.
---
Pictures above
Photos 1 & 2: U. S. Steel President & CEO Dave Burritt
Photo 3 (from left to right): Gus Atsas (President, United Steelworkers Local 1014, Gary Primary Operations), Congressman Frank Mrvan, Dave Burritt (President & CEO, U. S. Steel), Scott Buckiso (Senior Vice President & Chief Manufacturing Officer North American Flat-Rolled Segment, U. S. Steel) and Dan Killeen (Vice President, U. S. Steel Gary Works)
Photo 4: Crowd at the pig iron caster event
Photo 5 - 8: U. S. Steel President & CEO Dave Burritt
Photo 9: Scott Buckiso (Senior Vice President & Chief Manufacturing Officer North American Flat-Rolled Segment, U. S. Steel)
Photos 10 & 11: Congressman Frank Mrvan
Photo 12: Dave Burritt speaking with Congressman Frank Mrvan
Photo 13: Dave Burritt speaking with Dan Killeen