U. S. Steel & Gary SouthShore RailCats Partner to Restore Little League Field
May 26, 2022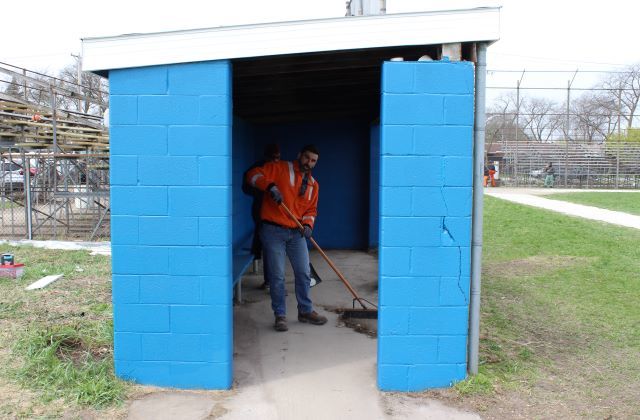 U. S. Steel and the RailCats hit it out of the park with their restoration of a Little League field in Gary, Indiana, just in time for this year's Little League season.
The Roosevelt High School field's restoration was sponsored by The Homefield Advantage Foundation, a cooperative program between U. S. Steel and the RailCats that supports youth sports programs in the Gary area.
Renovations of the field, performed by 60 U. S. Steel employees along with RailCats players, staffers and other community volunteers, included re-roofing and painting dugouts, repairing bleachers, installing netting over home plate, and removing brush. The restored ballfield will also help benefit area high schools, along with Little League teams.
This is the second year we have teamed up with the RailCats to revitalize a local ballfield. Click here to read more about this year's event in a story in the Northwest Indiana Times.
Huge thanks to all the employees who volunteered their time and energy to make a difference for youth in the community.

---
Pictures above
Photo 1: Ken Bauer helping at the RailCats field restoration.
Photo 2: Mark Sain (Ice President and JUM Co-Chair, United Steelworkers Local Union 1014) and Ed Huson.
Photo 3 (from left to right): Jeramie Reuhl, Pat Alaniz, Michael Krcoski, Rich Van Meter, and Russell Wegner.
Photo 4: Pat Alaniz and Andy Wronko.
Photo 5: Ken Bauer and Gus Atsas (President, United Steelworkers Local Union 1014) in a man lift.
Photos 6 & 7: Before and after photos of the field restoration.