U. S. Steel Gary Works Donates $75,000 to Local Boys & Girls Club
Nov 26, 2021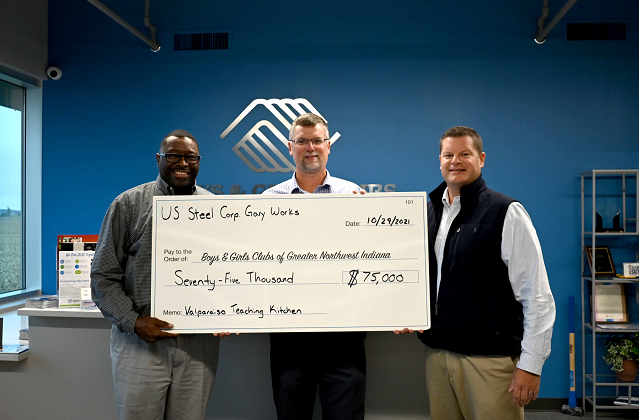 U. S. Steel knows the best recipe to help young people lead healthy lives involves ingredients such as creating safe spaces where they can learn and play, having strong mentors, and, of course, providing good, healthy food.
We're doing our part to supply those ingredients by donating $75,000 to Boys & Girls Clubs of Greater Northwest Indiana to sponsor the teaching kitchen in their new club under construction in Valparaiso. The test kitchen will enable young people to learn cooking skills from experienced professionals along with the role healthy food choices plays in living healthier lives.
U. S. Steel's donation builds on a 15-year relationship between our Northwest Indiana facilities and one of the region's leading organizations supporting children and families.
Dave Reaume, Plant Manager of Finishing Operations (pictured above far right), and Terry Carter, Manager of Safety and Security (above far left), represented U. S. Steel's Gary Works and Midwest Plant during the recent check presentation to Mark Jones, President of Club Services for the Boys & Girls Club of Greater NWI (above center).
"It feels good to be able to give back to the community in which you live and work, and Boys & Girls Clubs are an important part of supporting both children and families in Northwest Indiana," Dave said. "We are confident the kitchen will be put to great use, and we are proud to partner with the Boys & Girls Clubs now and in the future."
Boys & Girls Clubs President and CEO Ryan Smiley added the following: "We are grateful for their continued support and belief in our mission. For them to step up in the way that they did with a donation of this size means the world to us and our Club members."
Read more about our donation here in the Northwest Indiana Times.
U. S. Steel's partnership with Boys and Girls Club of Greater Northwest Indiana is a real recipe for community success.