U. S. Steel Gary Works Makes Donation to Methodist Hospitals Foundation
Mar 24, 2021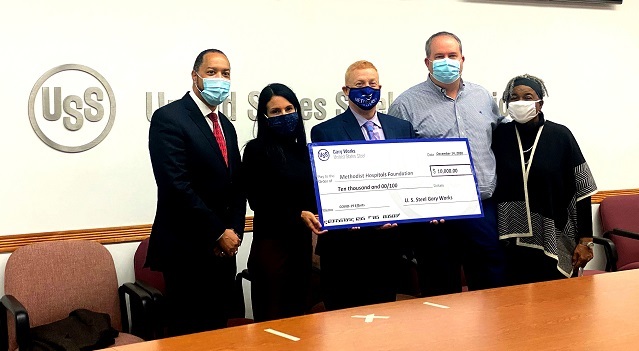 U. S. Steel's Gary Works, located in Gary, Indiana, donated $10,000 to Methodist Hospitals Foundation, the steward of charitable contributions for Methodist Hospitals, a community-based, not-for-profit health system with two full-service acute care facilities in Gary and Merrillville, Indiana, that has been leading the way to better health for residents of Northwest Indiana for almost 100 years.
The gift will support the Methodist Hospitals COVID-19 Response Fund which was established to provide supplies, pharmaceuticals and protective equipment needed in the care of COVID-19 patients. This significant gift complements U. S. Steel-Gary Works' previous in-kind donation of more than 400 N95 masks at a time when supply chains for PPE and other essential equipment were seriously strained nationwide.
"We value our partnership with U. S. Steel-Gary Works. Gary Works shares our vision of providing the best possible healthcare for the local community and has stepped up to help Methodist Hospitals serve many more patients. Its investment in Methodist Hospitals' during this pandemic has been extraordinary and certainly greatly valued" said Matt Doyle, president and chief executive officer of Methodist Hospitals.
"During this unprecedented time of the COVID-19 pandemic, our goal at U. S. Steel has been to preserve lives and livelihoods. This effort extends beyond our facilities to the communities where we live and work. We are grateful for those on the front lines at Methodist Hospitals for their bravery, as we work together to keep our community safe," said Dan Killeen, vice president, U. S. Steel Gary Works.
"Methodist Hospitals Foundation has witnessed the power of generosity from corporate partners who are seriously concerned for the welfare of the community" said Heather McCarthy, president of the Methodist Hospitals Foundation. "Our COVID-19 Response Fund will be greatly enhanced by this most generous donation from US Steel-Gary Works and allow our charitable foundation to further support the hospital in fulfilling its mission."
Pictured above from left to right at the recent check presentation at Gary Works are: Robert Johnson (Chairman of the Board of Methodist Hospitals), Heather McCarthy (President of the Board of Methodist Hospitals Foundation), Matthew Doyle (CEO of Methodist Hospitals), Dan Killeen (Vice President - U. S. Steel's Gary Works), and Denise Dillard (Chief Consultant for Governmental and External Affairs for Methodist Hospitals).